York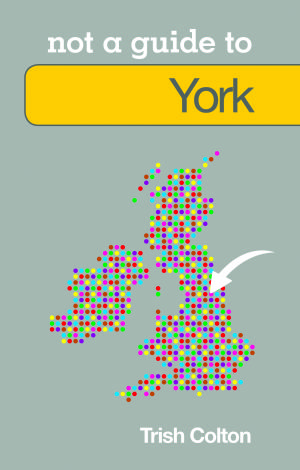 not a guide to York...by Trish Colton
When is a City guide not a City guide? When it's the new volume written by Trish Colton and published by The History Press entitled: 'not a guide to York'.
While visitors to our fine medieval City might wish to invest in a guide to the City of York, any visitor who is unfamiliar with the City would do well to compliment such a guide with Trish Colton's 'not a guide to York'.
This slim 'slip into your jacket pocket or into your handbag volume' is chock-full of snippets of information that even some residents of the City might be heard to say... "well, I never knew that".
Unlike a guide which will direct the visitor to any number of historic piles, this 'not a guide to York' will inform the visitor like no other 'guide' or should that be, like no other 'not a guide'...well, I think you know what I mean.
The volume is a veritable trove of interesting and less than usual information pertaining to many places within the City and its environs. For instance, the Film & Television section on page 114 tells us that the pedestrian bridge at York railway station is where Hagrid gives Harry his ticket for Platform 9¾ in the movie Harry Potter and the Sorcerer's Stone (2001). I trust that any unusual pedestrian traffic to the above bridge will now not be blamed on me - you will need to write to Trish on that one. An item in the 'Some Last Facts' section informs us that a lock of George Stephenson's hair is kept at the National Railway Museum which is located on Leeman Road, York - the George in question of course being the George Stephenson who built the first public railway line in the world to use steam locomotives.
The above snippets have been purloined from the back of the book, to avail yourself of the many surprising delights from the main work; it can be obtained from The History Press.
Many thanks to The History Press for sending me a copy of this book for review.
Reviewed by Steven F. Bruce, Yorkshire Family History