Leeds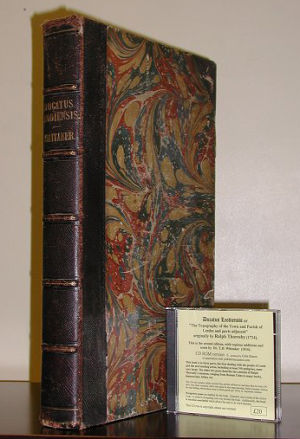 Ducatus Leodiensis by Ralph Thoresby

For those interested in the history of Leeds and its environs Ducatus Leodiensis published by Ralph Thoresby in 1715 is the work by which all subsequent historical works of the town and parish of Leeds has been measured. By 1715 Ralph Thoresby had gained a considerable reputation as an antiquary and topographer and this was further merited by the publication of this work; it has long being considered a highly important definitive work of local topography. The purchase of an original, 1715 first edition, is probably beyond the reach of most; it regularly commands a price tag of between £3000 and £4500, depending on its condition. Even a second edition of 1816 which, is currently being presented on this CD would reduce your bank balance by anything from £800 to £1500.
By making this publication available on CD, Colin Hinson has hit new heights. He has made not only this CD but all of his other more recent CD publications, fully machine searchable. For all of us, other than those who would prefer to have an original volume sat neatly in a bookcase, the facility makes using this version of the publication a joy! I congratulate Colin on the attention to detail that he has given to this and to all his other CD publications and not least for making these, often financially unattainable publications, available to us at affordable cost.
Many thanks to Colin Hinson of Yorkshire CD Books for sending me a copy of this CD to review...the eBook CD can be obtained from Yorkshire CD Books.

Reviewed by Steven F. Bruce, Yorkshire Family History