Huddersfield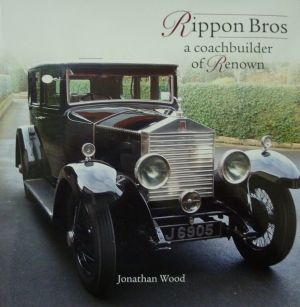 Rippon Bros...a coach builder of Renown
This volume has been produced to the same extremely high and exacting standards as was the subject matter with which it deals and which was produced for a century. Indeed, it could be argued that to have produced the work to any lesser standard might well have been an affront to that very subject matter.
The work is the brainchild of James Hinchliffe, a direct descendant of the main Rippon family line, and Annabel Sleigh. It is a superb example of the self-publisher's art and to say that it has been lavishly produced cannot be over-stated. Commissioned author Jonathan Wood, a motor historian of repute and with 35 books to his credit, has done a wonderful job; the entire 450 page volume has been wonderfully illustrated throughout.
The volume is a fine work about the history of the company which was established in 1870 as Messrs Rippon and Marsom, carriage makers, St John's Road, Huddersfield. The company remained in the Rippon family until its sale to the Appleyard Group of Companies in 1970 although the Rippon name remained associated with that of Appleyard until 1997.
The volume is limited to 750 copies and therefore time is of the essence. I was one of the first to purchase my numbered copy at the recent book launch at Jackson Bridge, Huddersfield. Judging from the number that my copy was allocated, over 200 copies must already have been sold prior to the launch and they were selling like the proverbial hot-cakes throughout the day of the launch.
Acquire a copy while they remain available - should you have an interest in motor cars and in particular, prestigious motor cars - should you have an interest in the history of the town of Huddersfield - should you have an interest in company history - should you have an interest in social history - should you have an interest in local history or should you have an interest in family history, then this sumptuously produced book ticks all of the above boxes.
Reviewed by Steven F. Bruce, Yorkshire Family History