Harrogate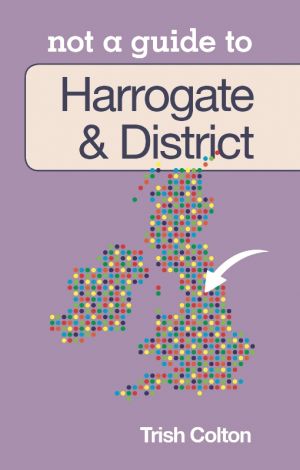 not a guide to...Harrogate & District
This, the second volume in the 'not a guide to' series by Trish Colton...deals with Harrogate and its environs, including Knaresborough, Masham and Ripon.
As with her 'not a guide to...York', this extremely handy pocket size volume points the reader-visitor in the direction of the less obvious although not necessarily off the beaten track places to visit. For instance, a Knights Templar preceptory was founded at Little Ribston, 7 miles east of Harrogate, in 1214. Today all that remains of the preceptory is the chapel, which now has the seventeenth-century Ribston Hall tacked onto one of its walls.
Any art lovers will be intrigued by the section headed 'Turner's Tours' in which is discussed the eleven pieces that were composed by the great artist J.M.W. Turner RA while on many of the visits he made to Yorkshire.
The volume is packed with useful and interesting snippets of information about...castles in the area - Knaresborough, Ripley, Spofforth, Allerton, John O'Gaunt's, Mowbray, Rougemont and Howe Hill castle and battlefields such as Myton, Boroughbridge and Marston Moor. It lists buildings, walks and local food and drink; Old Peculiar Cake has to be on everyone's 'must try' list where it can be enjoyed at the local Betty's Cafe Tea Room.
This volume is a must for any visitor to the Harrogate area and to avail yourself of the many surprises which Harrogate and the surrounding district has to offer, obtain this superb pocket size volume from The History Press today.

Many thanks to The History Press for sending me a copy of this book for review.
Reviewed by Steven F. Bruce, Yorkshire Family History