Hoyland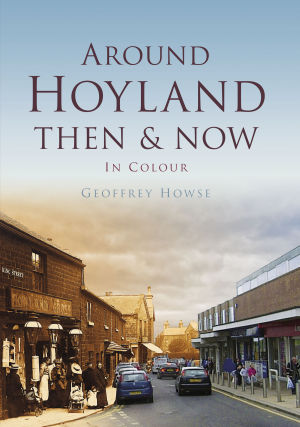 Around Hoyland Then & Now by Geoffrey Howse
Around Hoyland Then & Now in Colour, a recent addition to the well known 'Then & Now' series, will fascinate those who are connected with the village and of course anyone with an interest in local history and in particular local village architecture.
As with all in this series, it is the photography which has the immediate impact. Each double page spread reveals a modern colour photograph of a building or street scene and compares it with a much older view in either a black and white or a sepia photograph...the older views often including groups of people or single individuals. The beauty of this book format is that each double page can hold the attention for a long time while your eyes scan back and forth from the old to the new while at the same time your mind automatically computes and compares the two for any differences and changes to the building or scene. Not only is it fascinating to see just how a building or street may have changed over time or in many cases, changed very little, but the old photographs which include people, sometimes posing but sometimes going about their daily business, gives an insight into the lives of an earlier generation before most of us were born.
However, whilst the double pages are designed to feature a building or street scene as it was 'then' and as it is 'now' it is the ensuing discussions concerning the differences that time has had on the subject matter which are the real treat. Local historian Geoffrey Howse admirably clothes the volume of photographs with his obviously detailed local historical knowledge of the area...as it says in the inner front dust jacket 'Deeply nostalgic and meticulously researched, it will delight residents and visitors alike'.
Undoubtedly this volume will be welcomed by the many residents and particularly former residents who wish to be reminded of the village in which they grew up and perhaps were born...it can be obtained from The History Press.

Many thanks to The History Press for sending me a copy of this book for review.
Reviewed by Steven F. Bruce, Yorkshire Family History